Pianist John Scarfe concentrates closely as he accompanies soprano Mary O'Shea
On Wednesday 9th November we saw an interesting cross-over between two concert series - Lunchtime Concerts' at Glenorchy United Reformed Church in Exmouth and 'Coffee and Music' at the Parish Church of St John the Baptist in Broadclyst.
The 'Lunchtime Concert this Wednesday was given by Pianist John Scarfe and Soprano Mary O'Shea. John Scarfe organises - and is usually associated with - the Broadclyst 'Coffee and Music' concerts. 'Coffee and Music' takes place on occasional Saturdays at Broadclyst Church. John Scarfe is the organist at the Church. The Rector, the Reverend Michael Partridge, whose family are all extremely talented musicians, takes a very active interest in the series and his daughter Bethany has performed - beautifully - at one of the concerts (See '
A Week of Music
' 7th November 2010.
Taking centre stage - and star billing - on Wednesday was soprano Mary O'Shea. Mary has given several live performances on Phonic FM. She has performed her own modern compositions on Martin Hodge and Martin Henning's 'Roots and Shoots' programme (Monday evenings 6-8pm). On the 'Classical Journey she has made a name for herself singing a wide range of baroque, classical, romantic and modern music from the opera and solo repertoire. Following her first 'Classical Journey' appearance in October last year, Mary returned with John Scarfe and a beautiful selection of music which they performed together in the studio. (Classical Journey Tuesday 15th March 2011 -
details
.)
Soprano Mary O'Shea - in fine voice
George Frederick Handel
1685-1789
For the Glenorchy lunchtime concert on Wednesday, Mary and John had worked together to prepare a 'classical journey' of their own. Mary, looking the part in an impressive red and black outfit, opened unhesitatingly with the perfect baroque aria:
George Frederick Handel: 'Semele' - 'Where E'er You Walk'
This tenor aria from Handel's 1744 opera (transposed for soprano voice), expressing the love of Jupiter, the king of the Gods, for Semele (an incongruous figure in Greek mythology, being named after the Thraco-Phrygian Earth Goddess). Their love is consummated in the conception of Bacchus the god of wine. This song of unashamed flattery is always familiar - and popular. Mary immediately took control of the audience, commanding their attention with her strong gentle voice and perfect diction. "Trees where you sit, shall crowd into shade."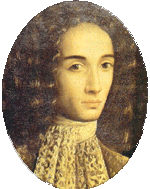 Allessandro Scarlatti
1660-1725
Having got everyone's attention, Mary was able to take the audience on a journey to more esoteric places, each very competently introduced by Mary herself.
Allesandro Scarlatti: 'L'Honestà Negli Amori' - 'Gia il Sole dal Gange'
Immediately we are in Algeria, the setting of Scarlatti's 1680 opera ('Honesty in Love'). Allesandro, who was only nineteen years old was already married and had a child (not Domenico - he was born five years later.) The previous year his first opera 'Gli Equivoci Nell Sembiante' ('An Innocent Mistake') had impressed Queen Christina of Sweden (who lived in Rome). She made him her 'Maestro di Cappella' and he was able to prepare 'L'Honestà Negli Amori' as a full scale production at the Teatro di Palazzo Bernini.
Mary sings the part of Saladino the page-boy delighting in the warming rays of the sun drying the morning dew. The reference to the River Ganges in India is a figure of speach, meaning 'in the East'. Characters like Saladino are perfect for the soprano voice, and Mary made a perfect Saladino. Her Italian was very clear and easy to follow - and very sweet.
Henry Purcell 1659-95
Mary then deftly moved the setting to London in 1688 and Henry Purcell's 'Dido and Aeneas'. Dido's Lament 'When I am Laid in Earth' was very moving. John Scarfe at the piano (with it's lid open only a chink) played incredibly gently making the links as soft as possible in order not to detract from Mary's singing. His gentle piano conclusion was perfect.
Gottfried Heinrich Stölzel
1690-1745
Mary also sings beautifully in German. 'Bist du bei mir' ('If you are with me') is from Gottfried Stölzel's lost 1718 opera 'Diomedes'. The aria was found somewhat later in Anna Magdalena Bach's notebook, leading to an incorrect attribution to her husband Johann Sebastian Bach. The sentiment followed Dido's lament perfectly - "If you are with me, I shall go gladly to death and to my rest." Even in German the feeling was very easy to follow and, once again, John was supremely sensitive in has accompaniment.
Wolfgang Amadeus Mozart
1756-91
More Italian followed - something a little more light-hearted. A favourite aria of Mary's is 'Voi che sapete che cosa è amor' ('You ladies who know what love is') is a genuine 'trouser rôle'. In Mozart's 1786 opera 'Le Nozze di Figaro' ('The Marriage of Figaro') the pageboy Cherubino was specifically written for a woman - soprano Dorotea Bussani. Cherubino, facing military service, is to be dressed up as a girl by the ladies, but first sings his love song for the Countess Almaviva. Mary suggested a lovely translation before she sang, "Tell me dear ladies, what stirs in my heart? Is it young Cupid? Is it his dart?" With that help and Mary's slick Italian pronunciation this was easy to follow and lots of fun.
Franz Schubert 1797-1828
The next song, from Germany this time, was sad - but only in hindsight. Franz Schubert's 'Ständchen' ('Serenade') was composed in 1828 and included in his 'Schwanengesang' ('Swan Song') collection after his death later that year. Ludwig Rellstab's words, "Leise flehen meine Lieder" ("My songs gently entreat you") exhort his lover to make him happy. Mary lingered over each word evoking not only the author's longing but also the flavour of late nineteenth century German culture. Beautifully done, and John subtle as ever.
Robert and Clara Schumann
Lithograph by J. Hofelich
The Bettmann Archive
(Robert: 1810-56)
From a swan song to wedding songs. Mary sang 'Der Nüssbaum' ('The Walnut Tree') and 'Widmung' ('Dedication') from Robert Schumann's 1840 wedding song collection 'Myrthen' ('Myrtles' - the flowers associated with weddings in German culture). Schumann wrote beautiful combinations for piano and voice, of which these two are perhaps the best examples - and the best known. Julius Mosen's poem tells of the walnut blossoms brushing together - like a kiss. For the telling line Mary's voice fell to a gentle whisper - perfectly matched by John's flourish on the piano.
Widmung is much more forthright in its emotional content. Friedrich Rückert's word's "Du meine Sele, du mein Herz" ("You my soul, you my heart") is charged with emotion. The following words, "You are my pain . . . You are my grave" create a very different feeling - overwhelming and terrifying love. John's chords were full of pathos, while he was careful not to overpower Mary's voice. After the final lingering words, "You raise me above myself - my good spirit, my better self", John's light last note left the sentiment hanging in the air.
Roger Quilter1877-1953
To finish the concert Mary and John brought us into the twentieth century. First Mary sang 'Fair House of Joy' from 1908 by the 31 year old Roger Quilter. This is the seventh of seven 'Elizabethan Lyrics' based on the poemes of Tobias Hume in his 'First Part of Ayres' from 1605. Very ancient music, but also very modern - in the style of Elgar of Vaughan Williams. The soprano part was very high and challenging - taxing Mary to the limit. The gorgeous high ending perfectly reflected the original words, "Fain would I change that note to which fond love hath charmed me"!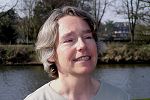 Dame Elizabeth Maconchy1907-94
The final twentieth century piece also had its origins at the beginning of the seventeenth. 'Ophelia's Song', written in 1926 by the nineteen year old Elizabeth Maconchy is based on Shakespeare's play 'Hamlet' from 1600. In the play Ophelia is discouraged by her brother Laertes and father Polonius from wasting time on the insincere Hamlet. However, she mistakes his deranged bearing for the excitement of love for her. A terrible mistake. Later Ophelia is found dead. The circumstances are not made clear, but Maconchy probably drew inspiration from John Everett Millais' famous painting of Ophelia from 1852 - drowned! Maconchy may also have been influenced by the young soprano Mignon Nevada who sang the part of Ophelia in the opera version of the play when Elizabeth was a child.
An illustration by
Isaac Taylor for the
1765 publication of
'The Fair Circassian'
The song was not particulary well known at the time of composition but, after an illustrious career, the 87 year old Elizabeth put together a collection called 'Three Songs' in 1994 - including the now familiar 'Ophelia'. Mary's stamina seemed limitless as she put all her energy into this extraordinary song. John's piano playing echoed and punctuated Mary's emotional delivery. Into sudden silences Mary injected the most telling words, "He [Ophelia's father] is dead and gone!" Repeated without accompaniment at the end "He is dead and gone. At his head a grass-green turf - at his feet a stone." hangs in the air with profound emotion as John punctuates the piece with one last telling chord.
Thomas Arne 1710-78
. . . Heal me with kisses, Love, or else I dy!"
" . . . and hither bring thy lips adorn'd with all the blooming springKnowing how affecting 'Ophelia's' Song' would be, Mary had come prepared with the antidote - an encore by eighteenth century composer Thomas Arne. The only surviving song from his opera 'The Fall of Phaeton' (written in 1736 when he was only 25 years old). W. Pritchard's amorous words, based on Samuel Croxall's 1720 'The Fair Circassian' put a smile on eveyone's face.
A delightful song, and a delightful way to end a perfect selection of songs spanning more than three hundred years of history. Soprano Mary O'Shea and Pianist John Scarfe have prepared something really special which was thoroughly enjoyed by all.
Mary acknowledges her piano accompanist
- John Scarfe
Many thanks to David Lee for organising the whole series - and for playing the piano and organ himself on this occasion - and to David Southerns for making a welcome return to Glenorchy.
14th December: Val Howels (Soprano) John Brindley (Baritone) Frances Waters (Piano) 7th December: Kevin Hurst (Clarinet) Frances Waters (Piano)
30th November: Ana Laura Manero (Piano) Arturo Serna ('Cello) = 'Duo Teresa Carreño' (Venezuela)
23rd November: Dorothy Ferrier (Mezzo Soprano) Dorothy Worthington (Piano)
Glenorchy lunchtime concerts continue every Wednesday until Christmas. On 16th November Alex West returns to play music for piano and organ. Who could forget his recital of nineteenth century Parisian music. (That post is still regularly 'most popular' on this blog -
details
.)
If you missed this Wednesday's recital, or want to hear more, Mary and John will be preparing more delights for a 'Coffee and Music' recital on the morning of
Saturday 24th March
next year.
John will be giving another 'Coffee and Music' recital on the (newly restored) organ at the Parish Church of St John the Baptist, this
Saturday 19th November
10.30am for 11.00 - coffee is served!:
Denis Bédard (b. 1950 Quebec): Andantino and Fantasy
Joseph Rheinberger (1839-1901 Liechtenstein): Cantilène Sonata
( - listen out for the bass line from Bach's 'Adagio in C')
Johann Goggried Walther (1684-1748 Thuringia - a cousin of Bach)
- Violin Concerto after Joseph Meck (1690-1758)
Louis Vierne (1870-1937 Paris): Berceuse & Lied
Gaston B
é
lier (1863-1938 Paris) Toccata in D minor
( - more bass in the style of Bach - listen for the pedal line)
Johann Sebastian Bach (1685-1750 Weimar)
- Chorale Prelude "Liebster Jesu, wir sind hier."