This Year:
Doug Wright's
'Quills'
20-22 July
Barnfield Theatre
Last year's
Halloween production by
Exeter Alternative Theatre
Four one-act plays
from the Grand Guignol
Louis Ravenfield's Topsham based 'Exeter Alternative Theatre' amazed us all last Halloween with their 'Th
éâ
tre du Grand-Guignol' at Exeter's Barnfield Theatre. Their four short plays explored the darker side of human nature and experience. 'The Voluptuous Atrocity' by Georges Neveux and Max Maurey was perhaps the most disturbing. The lead character 'Diana' (played by Chloe Whittaker) sadistically murders her husband 'Monsieur de Sombreuse' (Louis Ravensfield) by mesmerism (which, in 1897, people may have imagined could work!) Meanwhile his attentive nurse (Sarah White) tried desperately to keep him alive.
Director and Co-Director
Sarah White and Chloe Whittaker
Louis, the founder of Exeter Alternative Theatre, is now planning an even more 'sadistic' production. Doug Wright's 1990 play 'Quills' or 'La Plume et Le Sang' ('Pen and Blood'!), which charts the final days of Donatien Alphonse Fran
ç
ois de Sade in the Charenton Asylum in Saint-Maurice where he was confined from 1801 to 1814. Sarah White and Chloe Whittaker will be in charge of the production as Director and Co-Director.
Louis is very keen to involve a wider community in theatre and extend the repertoire by putting on rarely produced plays. 'Quills' reflects this. Doug Wright intended the play as a response to the withdrawal of National Endowment for the Arts grants from four productions by the Conservative government just before the end of Margaret Thatcher's time as Prime Minister of the UK. Wright felt that de Sade suffered similar opposition to his own 'extreme' work.





Sarah White and Chloe Whittaker
supervise Midge Mullin
as he gets fully into
the character of de Sade
Louis will be playing the part of the Asylum's Chief Physician, Dr Antoine Athanase Royer-Collard. He counters the humanitarian attempts at rehabilitation by the asylum's director, the Abbé Fran
ç
ois Simonet de Coulmier, with demands for harsher punishments and deterrents, especially for their most notorious inmate - the Marquis de Sade. Royer-Collard demands payment from de Sade's wife Renee Pelagie to tighten security around the Marquis. Despite this, de Sade still manages to have his writings smuggled out of the hospital, adding to her shame.

Meanwhile the 'Lunatic Chorus' gathers
Sorrel Meechan far right
Royer-Collard makes a lot of money in return for his services to the patients and their relatives. (In the period before 1828, relatives could pay to commit a difficult spouse or family member to the care of a physician like Royer-Collard without any need for certification that the patient suffered from any kind of mental health problems!) Royer-Collard needed the money too - in order to lavish every luxury on his wife, in the hope that he might convince her to remain faithful to him.
(De Sade died in 1814 and Royer-Collard died about ten years later. Royer-Collard was replaced by Jean-
É
tienne-Dominique Esquirol. In 1845, after Esquirol had also died, the hospital was rebuilt by Émile Gilbert and renamed 'L'H
ô
pital Esquirol' - the name by which it is still known today.)
And relax!
Chloe Whittaker reviews the performance
De Sade will be played by Midge Mullin, who was M. Ernest de Merliot in René Berton's 'Tics' or 'Doing the Deed' ('Apres Coup') at last years 'Grand Guignol'. Midge's character suffered from a particularly outrageous 'tic'. (You had to be there!) Abbé de Coulmier is played by a new member of the company, Mike Gilpin.
In the spirit of Exeter Alternative Theatre, Louis has also introduced new characters into the play creating a new parts for local actors. In a change from the original, Mme. Royer-Collard makes an appearance, for example She will be played by prospective drama student Sorrel Meechan from Exton, who begins studies with the Cygnet Theatre Company this autumn. Louis also creates non-speaking parts. For example, this production involves a 'Greek chorus' of 'lunatics' who punctuate the action with sound and dance. Another opportunity for Sorrel Meechan to shine. 


Dr Stephen Knapper
Performing and
Screen Studies
Kingston University
London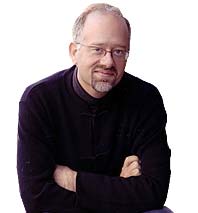 Doug Wright
Author of 'Quills'
The company have been rehearsing since April in the Malthouse of Topsham's Globe Hotel. (Entering into the community spirit, proprietor's Liz and Dave Hodges make no charge!) Director Sarah White graduated in drama at Kingston University London, where she was trained by Dr Stephen Knapper. She has since joined other students to form the theatre company 'Knapper Experience' performing at Edinburgh and other 'fringe' festivals. Her directing debut was Jimmy Chinn's 1994 'Something to Remember You By', a play about a man driven to write - somewhat like de Sade in Doug Wright's 'Quills'.

For anyone interested in joining Exeter Alternative Theatre and/or acting in their next 'Grand Guignol' - Louis has sent in the press release below - many thanks Louis!
Auditions
We are also currently auditioning for our second Halloween production of 'Grand Guignol'.
Le Theatre Grand-Guignol in Paris, opening in 1897, thrilled, titillated, shocked and horrified audiences for 65 years. It is now revered as one f the world's great forgotten theatres. Following our successful 'Grand-Guignol' production last year we are bringing three more gems to the Barnfield Theatre stage in October. We operate an 'open door' policy and welcome people from all walks of life who have the passion and enthusiasm for theatre and doing something a bit different to the norm.
Louis Ravensfield
Producer & Creative Director
Exeter Alternative Theatre
Contacts:
telephone: 07941 692495

To let us find out more about 'Quills - Pen and Blood' Louis Ravensfield has also provided the more detailed press release and photographs in the post below: