Together again: Pianist Frances Waters and Clarinettist Kevin Hurst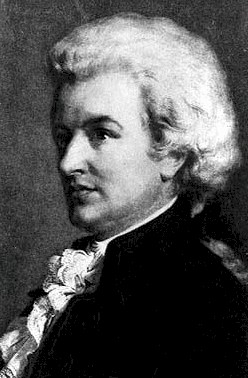 Wolfgang Amadeus
Mozart
(1756-91)
The penultimate lunchtime concert at Glenorchy United Reformed Church in Exmouth brought together a well known duet. Pianist Frances Waters joined clarinettist Kevin Hurst for a masterful performance of music by classical composers.
Frances always amazes an audience with her delicate and expressive piano playing - which can be very powerful too. Kevin's clarinet playing really has to be heard to be believed. So intricate and precise.
Their opening pieces by Mozart were a series of church sonatas. Initially the music was very gentle, with Frances controlling the volume of the piano perfectly to match to clarinet. Kevin's playing on the clarinet was soft with a very sweet tone. Carefully chosen, the sonatas increased in complexity. The fourth (number 336) had been given the full Mozart treatment. Unmistakeable, and the sudden outpouring of cleverly interwoven sound was a joy to hear.
Very sensitive piano
and exuberant clarinet
Carl Maria von Weber
(1786-1826)
The next piece has long been assumed to be the work of Carl Maria von Weber. However it is now correctly attributed to the later Viennese composer, Joseph Kuffner. The original misattribution is easy to understand. The music has the beautiful classical form associated with Weber. Initially everything was much softer and simpler than the Mozart - and allowed Frances and Kevin to demonstrate perfect restraint and control. The resulting effect was intimate and gently moving.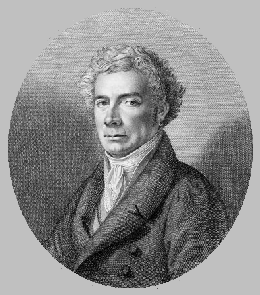 Joseph Kuffner
(1776-1856)
In the second movement the speed and excitement of Kevin's playing started to increase. When it seemed he couldn't continue at that pace, Frances would cut in with a perfect echoing piano solo before holding the piano's sound under for another, even more astonishing passage on the clarinet. Kevin's dexterity was dizzying. Each new idea was more demanding than the last - with Frances playing equally deftly on the piano.
The final movement was teasingly slow. Would there be another outburst. Yes! One last virtuoso passage on the clarinet, followed by a sweet piano solo, gave way abruptly to a perfect concluding duet. It certainly sounded like Weber - a classical masterpiece.
Heinrich Joseph Baermann
(1784-1837)
The second half of the recital included music by two lesser known composers - whose compositions were even more astounding. 'Adagio in D flat' composed by Heinrich Joseph Baermann, and arranged for piano and clarinet by Ernst Schmeisser, was supremely sensual. Frances created an insistent cascade of sound on the piano, almost a drum roll, while Kevin played the clarinet melody so movingly. Frances also had an equally moving development on the piano. The combination really was a delight to the ear.
Norbert Burgm
ü
ller
(1810-36)


Finally came Norbert Burgmüller's 'Duo in E flat for Clarinet and Piano'. Burgmüller completed the Duo in 1834 when he was only twenty four years old. What more extraordinary music he might have produced later no one will know. A year later Burgmüller's friend and mentor Felix Mendelssohn left Dusseldorf to work in Leibzig. Before setting off to continue his own career in Paris, Burgmüller visited the spa at Aachen. It was there that he had an epileptic seizure and drowned. A terrible tragedy! No less a person than Robert Schumann took on the task of ensuring the posthumous publication of Burgmüller's music. Schumann bewailed the tragic loss of such a young and promising musician. We now know, of course, that Schumann's own life was also to end prematurely depriving future generations of the wonderful music he might have composed.
And what was the music like - the music that Schumann was at such pains to preserve? Breathtaking! A beautiful and dashing theme gives way to powerful fanfares on the clarinet. The volume and control Kevin achieved was startlingly impressive. He would need a deep breath after each - before continuing with a contrastingly soft passage with impeccable control. At the same time Frances was producing very skilled effects on the piano. Frances' own fanfares were sustained using the pedal which she released precisely in time with Kevin for maximum dynamic effect. A stunning combination of sound. The piano melody and links were beautiful - delicate and lovely.
Incredibly Frances was reading the music by sight - so much detail and all the emotion she managed to inject - with total precision. For a virtuoso clarinet player like Kevin Hurst, Frances Waters piano accompaniment is the perfect complement. Absolutely brilliant!
A joyous collaboration
Heart-felt thanks to Frances and Kevin for a wonderful recital - generously performed with no charge for admission. Thanks also to Glenorchy organist David Lee for coordinating this superb concert series year after year. Every concert is a musical gem in itself. Long may the Glenorchy tradition continue.
Owing to the need for renovation, Glenorchy will be closed for a few months in the new year. The last concert of 2011 will be performed by soprano Val Howels and baritone John Brindley - with the glorious piano accompaniment of Frances Waters. After that there will be no more concerts until the renovation work is completed. However, David Lee is determined that concerts will recommence just as soon as possible. That is very good news indeed!
Until next time . . .